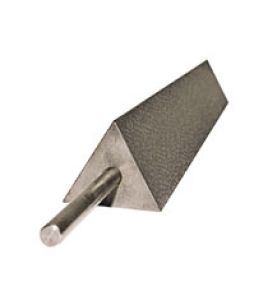 Triangular straightedges
Article no. S-2201 - S-2305
The triangular straightedges are made of dense special cast iron and cored-out for weight reduction. Heavily ribbed to avoid bending and distortion. Available with two handles on both sides (screwed in). For prismatic guide way levelling.

The two surfaces are scraped together for angles of 45° or 60°. Accuracy to DIN 876/0 and DIN 876/I.
settings_suggest Specifications
---
Categorie: Measuring Tools Cast Iron, TRIANGULAR STRAIGHTEDGES
Article no.
Dimensions (mm)
Weight
Straightness/µm
Tendency. ± µ
Length
Width
ca. kg
Grade 0
Grade 1
Grade 0
Grade 1
2201
250
50
2
5
13
4
6
2202
500
75
7
6
15
4
7
2203
750
90
15
7
18
5
8
2204
1000
120
27
8
20
6
9
2205
1500
120
48
10
25
6
10
Article no.
Dimensions (mm)
Weight
Straightness/µm
Tendency. ± µ
Length
Width
ca. kg
Grade 0
Grade 1
Grade 0
Grade 1
2301
250
45
3
5
13
4
6
2302
500
60
6
6
15
4
7
2303
750
80
16
7
18
5
9
2304
1000
100
28
8
20
6
10
2305
1500
110
50
10
25
6
10