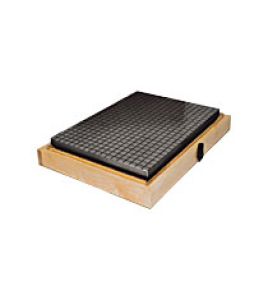 Duplex lapping and master plates
Article no. S-1000 - S-1001
Duplex plates are made in special cast iron, aged and stress relieved, with a flat master side and a quadratic lapping side, which are both precision ground. The combination of both plates saves a lot of space. Accuracy to DIN 876/I (14µ).

On request the plate can be delivered in a wooden box (article No. 1001). The upper and underside of the wooden box can be taken off, in order to keep the unused plate always protected.
settings_suggest Specifications
---
Categorie: Measuring Tools Cast Iron, Duplex lapping and master plates
Length mm
Width mm
Height mm
Weight ca. kg
Accuracy/µm
Duplex lapping and master plates are also available in MYTRI Fine Black Granit in several dimensions and accuracies