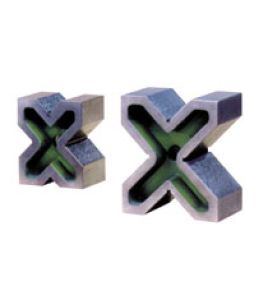 Double V-blocks
Article no. S-1301 - S-1304
Double V-Blocks are made in dense special highly wear resistant cast iron. With 4 recesses in different sizes, angle 90°, made in pairs. These recesses are made in pairs, parallel to the base, for scribing, adjusting and testing cylindrical parts.
settings_suggest Specifications
---
Categorie: Measuring Tools Cast Iron, V-BLOCKS LAPPED IN PAIRS
Grade 0
All surfaces lapped
Parallelism 0,008 mm
Grade 1
All surfaces lapped
Parallelism 0,016 mm
Fours sides ground in pairs.
Prism angle 90°. Usable on all sides.
Article no.
Dimensions (mm)
Weight
Receiver for workpiece / mm
L
B
H
ca. kg
1301
120
100
60
6
8-90
1302
150
130
75
12
8-110
1303
200
170
90
25
8-150
1304
300
200
90
40
14-220