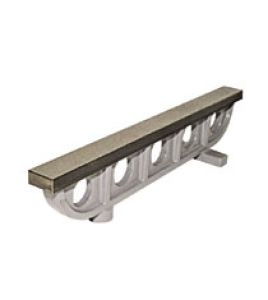 Levelling straightedges
Article no. S-2001 - S-2006
The levelling straightedges are made of dense special cast iron and are ribbed to avoid bending and distortion.

For levelling small guide ways and surfaces. Accuracy according DIN 876.
settings_suggest Specifications
---
Categorie: Measuring Tools Cast Iron, LEVELLING STRAIGHTEDGES
Measuring surfaces scraped, outer sides and front milled.
Grade 0
All surfaces lapped
Grade 1
All surfaces ground
Article no.
Dimensions
Weight
Accuracy/µ
Length
Width
ca kig
Grade 0
Grade 1
2001
500
40
6
6
15
2002
750
45
9
7
18
2003
1000
50
17
8
20
2004
1500
60
45
10
25
2005
2000
70
65
12
30
2006
3000
90
210
16
40