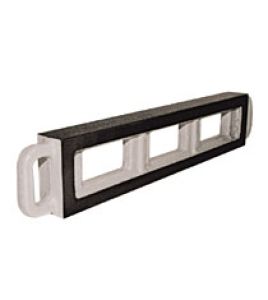 Parallel straightedges with 2 handles
Article no. S-2101 - S-2105
The parallel straightedges are made of dense cast iron, provided with ribs against bending and distortion. Suitable for measuring and levelling small guide ways and surfaces.
settings_suggest Specifications
---
Categorie: Measuring Tools Cast Iron, PARALLEL STRAIGHTEDGES WITH 2 HANDLES
Both surfaces are scraped flat and parallel in pairs, the outer sides are machined.

Accuracy to DIN 876/0 and DIN 876/I.
Parallelism to DIN 874/0 and DIN 874/I.
Grade 0
All surfaces lapped
Grade 1
All surfaces ground
Article no.
Dimensions (mm)
Weight
Flatness, parallelism/µ
Length
Width
ca kg
Grade 0
Grade 1
2101
500
35
5
6
15
2102
750
50
15
7
18
2103
1000
56
25
8
20
2104
1500
70
65
10
25
2105
2000
80
90
12
30